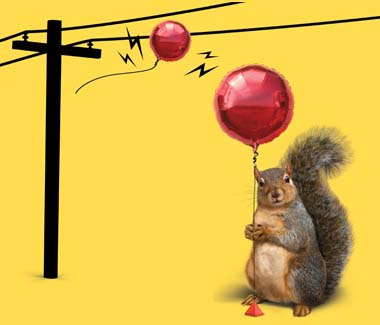 Safety is important, and reviewing electrical safety tips with friends, neighbors, and loved ones can help them stay safe. You can help friends, neighbors and loved ones stay safe by reviewing electrical safety tips with them.
Help kids learn about safety! Free tips for educators, parents & schoolchildren >
Metallic balloons that come in contact with power lines can cause power outages. Keep them far away and never release them outdoors. If you see a metallic balloon near a power line or stuck in a tree; please report it to SCE by calling: 1-800-611-1911.
Stormy weather can cause power lines to fall. This can create hazards – electrifying puddles, wet grass, and the surrounding area. Don't touch anyone or anything in contact with a downed power line. Always assume downed power lines are energized and dangerous. Stay away and call 911.
Always be aware when you're around overhead power lines. Stay at least 10 feet away from both overhead power lines and electrical facilities, and never approach or touch overhead power lines or any person or object in contact with the lines.
If you think your tree is a safety hazard to SCE infrastructure; specifically power lines, please call SCE at 1-800-655-4555 to schedule a tree inspection.
If you make a living working near electrical infrastructure, here are helpful safety tips and free safety materials for you.
Order FREE workplace-safety materials >
Before You Dig, Call 811
Whether you're a professional or decide to do it yourself, if you're planting new trees and shrubs or installing a new fence, give us a call before you dig. When you do, your underground utility lines will be marked for everyone's safety. This service is free and it's actually required by law.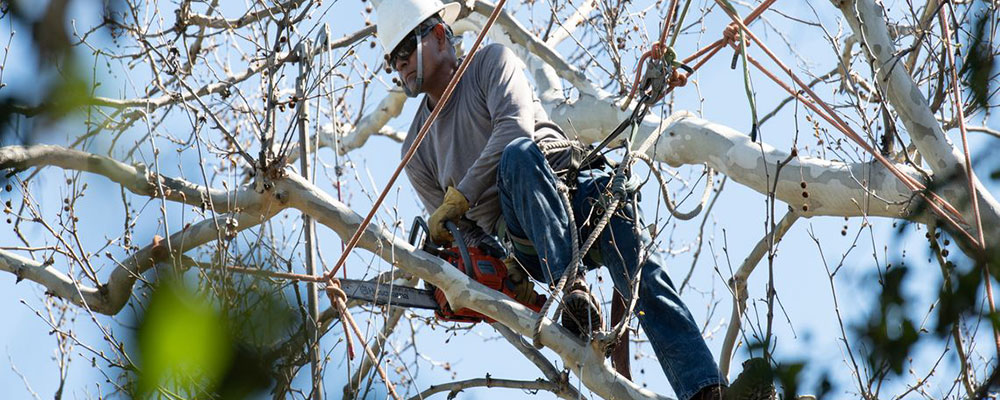 Trees, shrubs, and other vegetation can cause safety hazards and power outages if they grow into or near power lines. In support of safety, we regularly trim or remove trees that are dead, dying, or diseased, or growing near or under power lines.
What is Vegetation Management
Vegetation management is a broad term that describes work we do to minimize the impact trees and vegetation have on providing safe and reliable electric service. It includes hazard tree assessments, tree pruning and removal, brush removal and weed abatement.
It is a matter of public safety and for the reliability of the power grid. California regulations require utilities to trim trees or vegetation so they don't grow into or fall into high-voltage power lines, which could not only cause a power outage, but could spark a fire or be a danger to the public.
Contact Us About Trees and Vegetation near power lines
If you have any questions about vegetation located near SCE power lines, contact SCE Customer Support:
800-655-4555
Report an object caught in power lines: 1-800-611-1911
Report an outage: 1-800-611-1911
Before you dig: Call 811
Electrical Emergency: Call 911
Get notified about PSPS events and other outages near you.
Sign up or update your contact information to receive emails, texts or phone calls about PSPS events and other outages in your area.
Frequently Asked Questions
Our parent company, Edison International, is partnering with the American Red Cross to increase emergency preparedness throughout Southern California. Our joint effort, PrepareSoCal will help save lives by teaching people how to stay safe and how to respond to emergencies.
Tips for emergency preparedness >