Microgrid Incentive Program
California's investor-owned utilities (Pacific Gas and Electric Company, San Diego Gas and Electric, and Southern California Edison) are preparing to launch a new program to help provide clean, local energy to communities that need it most. The Microgrid Incentive Program (MIP) is a competitive grant program providing $200M in funding to communities facing outages, power shutoffs, and other events driven by climate change.
Microgrid Incentive Program Can Fund:
Up to $14M per community microgrid project for management, engineering, and development costs, such as in front-of-the-meter batteries and clean generation resources
Up to $3M for Special Facilities related costs
Up to $1M for interconnection-related costs
Up to $25,000 for application development-related costs
Note: Applicants may also qualify for additional project funding through the Clean Energy Access Grant. For more information, visit the Equity and Access Grant Program webpage.
Eligible Applicants
Eligible applicants include Community-based organizations, local and tribal governments, and third-party developers representing qualified communities.
To qualify for MIP, the applicant must meet at least one requirement in section A and meet at least one requirement in section B and/or C.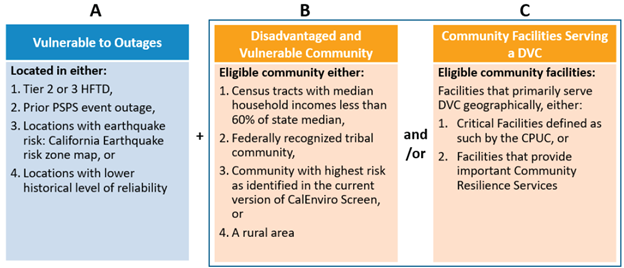 A. Vulnerable to Outages
A portion of an eligible MIP community microgrid is required to be geographically located in an area at a higher risk of electrical outages, either a:
Tier 2 or 3 High Fire Threat District (HFTD);
Location with a prior public safety power shutoff (PSPS) event;
Location prone to strong, damaging earthquakes; or
Location with lower historical levels of electricity reliability, defined as one of the top 1% worst-performing circuits on the utility's system in either of the prior two years' public Utility Annual Electric Reliability Reports.
B. Disadvantaged and Vulnerable Community
To be considered a disadvantaged and vulnerable community (DVC), the community must meet at least one of the following criteria:
Have census tracts with a median household income less than 60% of the state median income;
Be a recognized tribal community;
Be a community in the top 25% of most disadvantaged census tracts, as identified in the current version of CalEnviroScreen at the time of the application submission; or
Be identified as a Rural Area by the U.S. Health and Human Services Administration (HHSA).
C. Community Facilities Serving a DVC
Community facilities are those whose primary purpose is to serve a geographic DVC, as attested by the Local Government or tribal community, as applicable, with jurisdiction over the area. Eligible facilities include either:
Critical facilities, as defined by the CPUC; or
Facilities that provide important community resilience services as attested by the local government or local authority having jurisdiction over the area.
Program Goals
Power critical services like fire stations, hospitals, etc.
Advance climate resiliency technology
Provide reliable energy to disadvantaged populations
Inform future clean energy initiatives
Microgrid Incentive Program is currently in the development stage, please revisit us in October 2023 to find out more about the Program requirements and community eligibility requirements and download the Program Handbook.
Program Schedule
| | |
| --- | --- |
| October 2023 | Publish Program Handbook and Program Overview |
| November 2023 | Consultations With Potential Applicants Begin |
| Mid 2024 | MIP Applications Submission |
What Is a Microgrid?
As defined in the California Public Utilities Code, a microgrid is an interconnected, self-sufficient energy system within a clearly defined electrical boundary that can act as a single, controllable entity. It can connect to, disconnect from, or run in parallel with larger portions of the electrical grid, or can be managed and isolated to withstand larger disturbances and maintain electrical supply to connected critical infrastructure.
Microgrids provide energy resilience by disconnecting from the larger electric grid during outages and providing power to customers within the boundary of the microgrid, leveraging energy resources such as solar panels, batteries, generators, etc.
The MIP provides funding specifically for Community Microgrids. These are distinguished by a few key characteristics:
They serve multiple customers connected by utility distribution infrastructure.
They typically utilize grid-forming batteries or generation resources located in front of the meter.
They involve a partnership between a 3rd party Distributed Energy Resource (DER), CMG Aggregator, and the utility, as the grid owner and operator.
If you have any questions regarding the program, please email microgridincentiveprogram@sce.com. or view our Microgrid Incentive Program Fact Sheet.