Time-Of-Use (TOU) Peak Periods Changed
In March 2019, your TOU periods changed.This means you can lower your costs by shifting more of your energy use away from these times:
Business TOU On-Peak periods will be 4 p.m. to 9 p.m., instead of noon to 6 p.m.

Agriculture & Pumping Optional TOU peak periods will be 5 p.m. to 8 p.m.

Why Are TOU Periods Changing?
As California continues to adopt cleaner resources to generate energy, the cost to deliver power throughout the day is changing. Energy is now less costly during midday and more costly in the late afternoon and evening. That's why TOU peak periods are shifting to these times of day.

Ready for Critical Peak Pricing (CPP)?
In March 2019, all businesses with service accounts under 200 kW and agricultural and pumping service accounts over 200 kW defaulted to Critical Peak Pricing (CPP). CPP is a demand response program that offers a discount on regular summer electricity rates in exchange for higher peak period prices during 12 "CPP events" per year between 4 p.m. and 9 p.m. If your business is able to reduce its energy use away from CPP events, you can lower your overall costs.
June 1 to September 30 (4 months)
Standard Business TOU Periods


Agriculture & Pumping Optional TOU Periods

October 1 to May 31 (8 months)
Standard Business TOU Periods


Agriculture & Pumping Optional TOU Periods



Helpful Tools and Resources

Compare Rate Options
See how the new TOU peak periods will affect you. Our Rate Plan Comparison Tool will help you compare rates based on your actual usage.

Business Energy Advisor
Take a 5-minute survey about your facility and get customized recommendations for cost-effective, energy-efficient upgrades and strategies.

Get the Facts About TOU
Our helpful fact sheet summarizes the upcoming changes to TOU. Find answers to frequently asked questions and energy-efficiency tips.

Tips to Lower Your Bills with TOU

● Run ice machines at night and into the early afternoon to build up a large supply.
● Turn off all office equipment and lights every night and weekend; if you can't turn off computers, turn off monitors and the printers.
● Always use night covers on refrigerated display cases.
● Do laundry and waste-processing tasks before or after On-Peak hours.
● Charge battery-powered equipment before or after On-Peak hours.
● Precool your workspace by lowering the thermostat in the morning, then turn it up during On-Peak hours.
Inside Edison: Craft Brewery Taps Into Electricity
Electric Brewing Co. in Murrieta uses SCE Time-Of-Use and Off-Peak periods to implement successful business strategy.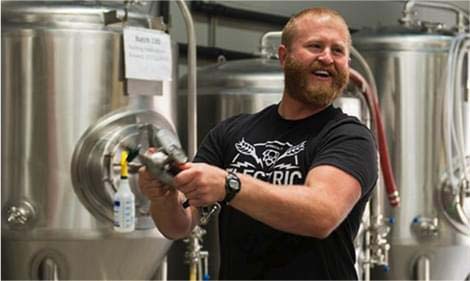 Our Time-Of-Use rates are part of a statewide initiative designed to keep the electric grid reliable—even when energy resources are in high demand.
All rates feature energy charges that vary based on the time of day, the day of the week, and the season. Some rates also include demand charges that are based on the maximum amount of electricity your business uses at once and during certain times of the day.