Financing for Your Energy Goals
Efficiency has its rewards: Reduce your energy usage, shrink your carbon footprint, and create a more efficient and comfortable environment for your business. We're here to help. Through financing programs, you may be able to spread the cost of qualifying measures and upgrades over time, with access to loan and lease terms that put energy efficiency within reach.
Our On-Bill Financing program helps your business fund efficiency projects over time. Through this program, you may qualify for loans to implement eligible measures and upgrades, then repay in monthly installments through your utility bill, with no interest or fees. In some cases, you may combine this program with additional financial incentives that offer your business even greater access to an efficient future.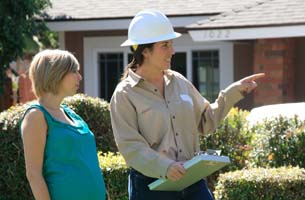 GoGreen Business Energy Financing
The state-administered GoGreen Business Energy Financing program can fund the energy efficiency upgrades you have in mind for your business. Through GoGreen Business Energy, private financing companies offer attractive rates and terms on leases, energy service agreements and loans to upgrade the property's HVAC, windows, lighting, refrigeration, controls and more. Financing can include non-energy improvements, like remodeling and landscaping, and you don't need to own the building to qualify. You may also combine GoGreen Business Energy with On-Bill Financing and SCE rebates for even more savings
Clean Energy Financing – Program Proposal
The Order Instituting Rulemaking (OIR) to Investigate and Design Clean Energy Financing Options for Electricity and Natural Gas Customers (Rulemaking 20-08-022) seeks to develop a more cohesive and comprehensive strategy to help customers finance energy improvements to further support the state's ambitious greenhouse gas (GHG) reduction goals. SCE supports the goals of this rulemaking and the notion that well-designed financing options, operating in conjunction with incentive programs, would allow customers to finance deeper retrofits across a broad range of clean energy technologies and could help California meet its environmental and energy goals.
SCE proposes, at a conceptual level, a two-pronged financing strategy for its customers, in order to focus programs to the different needs and risks for residential and non-residential customers:
Expanding SCE's current and proven on-bill financing (OBF) program for non-residential customers to allow commercial, industrial and governmental customers to finance clean energy projects beyond energy efficiency measures. The expanded OBF would continue to provide no-interest, no-fee loans that are repaid on the utility bill or in full by the borrower, at its election. SCE's OBF program has been highly successful, with over 2,400 loans issued, for $99 million, and a 99.3% collection rate since 2008.
Developing a new, phased tariffed on-bill (TOB) program specifically to assist residential customers to adopt a broad range of clean technologies. The TOB proposal would utilize a tariff charge, expected to be lower than the reduction in the customer's energy bills, attached to the site meter, rather than a loan to individual customers. This approach means that if a customer moves, they will not need to continue to pay the TOB charge for equipment that will be left at the property site. Instead, the model contemplates the tariff charge will be transferred to subsequent customers at the property site, assuming proper legal and consumer protections, who are likely to benefit from the clean energy investment. Additionally, this approach is expected to be more attractive and less risky for residential customers, and particularly renters.
To read the full proposal, please click here. For any questions regarding this proposal, please email Luis Gutierrez, luis.gutierrez@sce.com.