Meter Upgrades Are in Progress
In order to support better service, we're launching an initiative to upgrade and replace some of our electrical meters. Currently, we're conducting inspections to determine which meters need to be replaced. Find answers to your questions below.
Frequently Asked Questions
We are in the process of inspecting, upgrading and replacing network communication devices (Edison SmartConnect meters) with next generation meters that include a socket-based router and new system software. The purpose of the upgrade is to improve the existing metering network and support wireless signal billing and metering functions.
Your area is scheduled to begin receiving new meters over the next several weeks. If we inspect the meter at your location and determine that it needs to be upgraded, installation will take place Monday – Friday, 9 a.m. – 5 p.m. We anticipate that of the approximately 50,000 meters we will inspect, up to 24,000 may be replaced with upgraded devices.
Much like the current meter at your location, the new meter cycles through different digital screen displays. Each screen stays visible for five seconds. Look for the screen that displays "001" in the upper left-hand corner as shown on the meter display illustration. This screen will provide you with the recorded total kWh usage.
Every time you use one kilowatt hour (kWh) of electricity, the meter screen display (shown as 1234 on the illustration) will increase by one number. The digital display represents a "cumulative" read and works like a car's odometer (i.e., the total number of miles your car has been driven). To calculate your total kWh energy use for a given time, simply subtract an earlier reading from your current reading.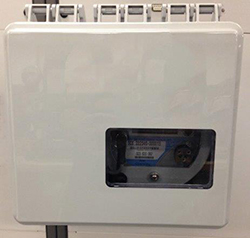 A brief interruption of electric power will occur during the installation. After the installation, please check your electronic equipment, appliances and sprinkler/irrigation system to reset timers and clocks. You may need to reset one or more of your electric panel circuit breakers. Reset the circuit breaker by moving the switch all the way to the "off" position and then back to the "on" position. If necessary, also reset your GFCI outlets (with the TEST and RESET buttons) and check your surge protectors and power strips.
If, after inspection, we determine that the meter at your location needs to be upgraded, we will complete all necessary work to replace it. After completing the work or, if we were unable to gain access to complete the upgrade, we will leave a door hanger notifying you of the outcome.