To encourage conservation, the state has required that a High Usage Charge be added to the Standard Residential Rate Plan as of January 1, 2017, as part of the residential rate structure adopted by the California Public Utilities Commission (CPUC). This charge applies to residential customers whose monthly energy usage exceeds 400%* of their baseline allowance, which is significantly higher than the typical house uses.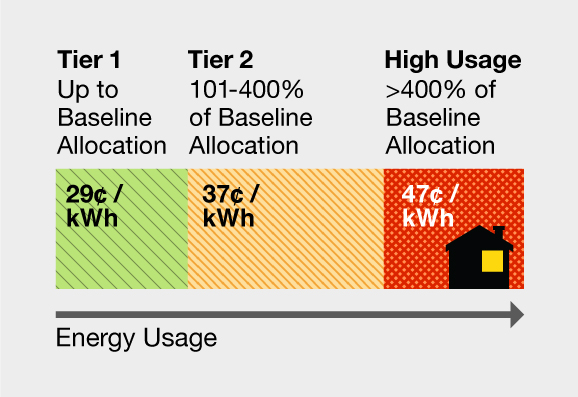 Every household is provided with a baseline allocation or set amount of kWh of electricity each period – charged at a lower price than energy used above the baseline amount. This reflects the amount of electricity needed to cover your basic energy needs, like lighting, cooking, heating and refrigeration. This varies based on your location.
*For Medical Baseline users on the Standard Residential rate plan, the High Usage Charge applies to customers whose usage exceeds their Tier 2 and medical baseline allowance. Medical Baseline customers receive an additional 16.5 kWh allocation per day in addition to their applicable seasonal baseline for the necessary operation of life-support devices and equipment.
How to Avoid the High Usage Charge
We offer a variety of tools and online resources to help you manage your energy use and avoid the High Usage Charge. There may also be better rate options for you. Learn more about rate options.
Our Energy Advisor is an online survey that gives you customized savings recommendations. Plus, find out what uses the most energy in your home so you can maximize on your savings. To get started, simply log in and find the Home Energy Advisor.