Guide to Your NEM Bill
---
How to Read and Understand Your Statements
Welcome to Net Energy Metering (NEM)! Now that you're interconnected, you'll get a new kind of bill. Use this guide to learn about NEM billing, how to read your statements, and ways you can use the information on your bill to make the most of your new solar generating system.
Class name
heading-new-style
Why Do I Still Get a Monthly Bill?
As a residential or small-business NEM customer, you still receive a monthly bill to track your "net energy charges." These are any charges you owe for energy you consume from SCE, after we subtract any credit for surplus energy your system generates.  
You'll also see some set fees appear on your bill, which will appear as "Delivery" or "Nonbypassable" charges. These fees apply to all SCE customers to support maintenance, operations, and public programs, and are due monthly regardless of your energy use.
Credit
for surplus energy your system generates.
Charges
for the energy you consume that comes from SCE.
Set Fees
for basic services and programs.

When you become an NEM customer, you have two options for how to be billed:
1. Annual Billing Option (ABO):   
Residential and small-commercial NEM customers are typically enrolled in ABO by default. With ABO, you are responsible for set fees each month, but you pay all your net energy charges just once a year, at the end of your 12-month cycle. 
2. Monthly Billing Option (MBO):
With MBO, you pay your set fees and net energy charges in full every month, instead of a lump sum at the end of the year. You may have selected this option during your NEM application process, or you can opt-in to MBO by completing and returning this form.
Annual Settlement Statement:
At the end of each 12-month billing cycle, regardless of your Billing Option, your remaining net energy charges are due. If you have a credit balance, you may be eligible for a payout, calculated at the Net Surplus Compensation (NSC) rate. Your net energy balance will reset to zero at the start of each 12-month billing cycle.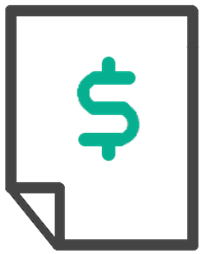 What's on Your Monthly Bill
Your bill contains everything you need to know about your energy use for the month:
Amount Due: What you owe now
Year-to-Date Charges: Annual total as of bill date (due later)
Detailed Energy Charges: A list and total of individual charges and credits
Detailed Energy Use: Your current use and history
View Full NEM 1.0 Bill Breakdown
View Full NEM 2.0 Bill Breakdown
You can also take our quick video tour of your new bill: Watch the Video
Want to just see what you owe at a glance? Your balance due as well as your year-to-date total are listed on the first page of your bill: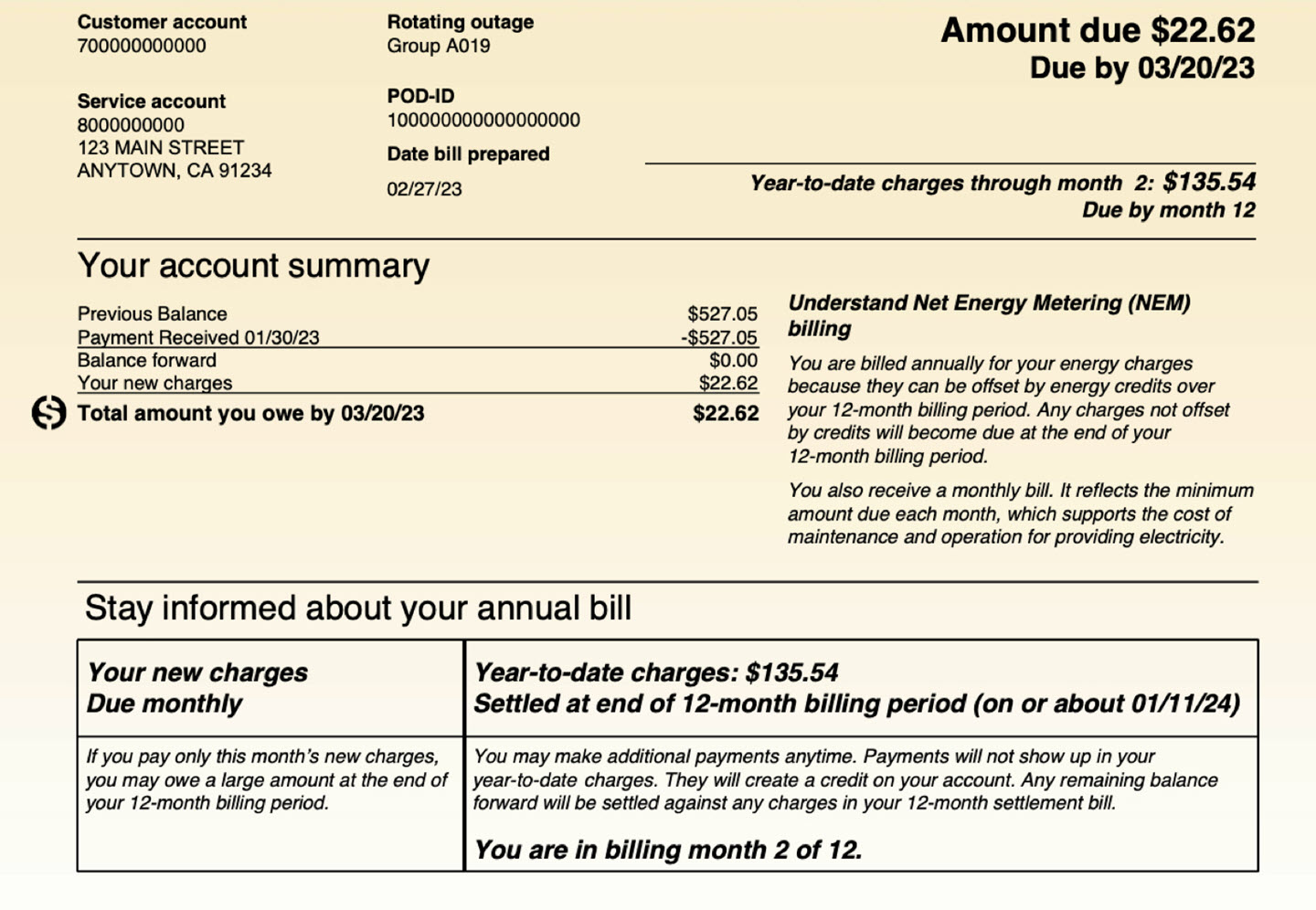 Credits, Charges & Annual Settlement
Sometimes your solar generating system produces more energy than you need. When this happens, SCE buys your surplus energy, and you get credit for it.
Similarly, when your solar generating system is producing less energy than you need – for example, at night, or when it's cloudy – SCE will provide energy and you'll be charged for it.
Your net energy is the difference between the energy you produce and the energy you consume:
Energy You Produce – Energy You Consume = Net Energy
At the end of the year, you receive your annual settlement statement:
If you consumed more energy than you produced during the year, you'll have an end-of-year balance due and owe that balance in full.
If you end the year with a negative balance (unused credit), and you opted-in to Net Surplus Compensation (NSC), it will be paid out as a bill credit or by check at the NSC rate.
Frequently Asked Questions
Looking for more specifics? Find answers to some common questions about net energy metering and billing below: