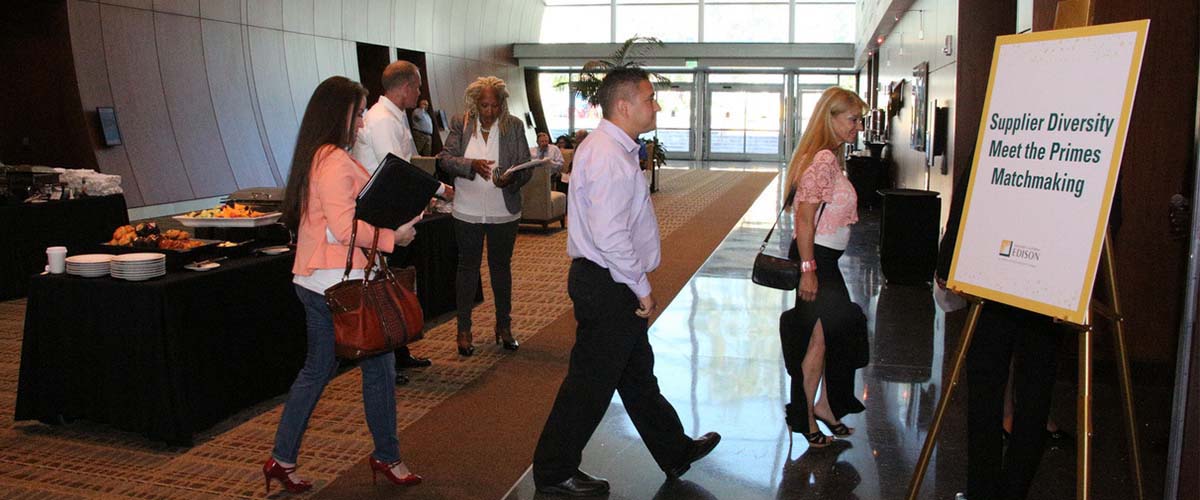 Reaching Diverse Businesses
Our Supplier Diversity and Development team attends outreach events each year to identify diverse suppliers for potential business opportunities. From networking and matchmaking events to business forums and "how to do business" workshops, we strive to meet and explore potential business partnerships with diverse suppliers.
Matchmaking events are an effective way to provide an exclusive introduction to corporations looking for specific products/services from diverse firms capable of meeting those needs.
To make a lasting impression at a matchmaking session, keep the following in mind:
Do your research and be prepared to state your value
Meet the minimum requirements (e.g., bonding and insurance, union, safety and quality requirements, etc.)
Make sure you're certified
Register in our supplier registration portal
Ask about next steps, who you should follow up with and how frequently
Send a "thank you" email
Make sure you are registered in our Supplier Registration Portal
Bring business cards and a capabilities statement
Clearly state your value proposition and how you meet our needs
Highlight your experience with similar companies
Be prepared to discuss your gross annual sales for previous three years, insurance and bonding capacity, quality programs and safety record
Ask who you should follow up with
Continue to market and build your relationship with us
Keep us informed of any awards, projects, and other achievements and milestones
Check our website for updated information, events and upcoming workshops
Tips to a Successful Capabilities Review Meeting
Capabilities Review Meetings provide suppliers with the opportunity to present their qualifications, experience and credentials to our procurement team and other organizational unit stakeholders. Here are a few guidelines for a successful meeting:
Conduct research beforehand that will allow you to discuss how your company's products/materials/services can meet our business needs
Become familiar with our mission, industry, market conditions, business operations and requirements and regulations
Arrive early; allow time for check-in procedures (a valid ID is required at our facilities)
Test your equipment and request Internet connection in advance or pre-arrange to borrow our equipment
Bring a Capabilities Statement
If presenting a PowerPoint presentation, bring it on a memory stick, along with your laptop and projector (if not previously arranged)
Bring business cards
Your PowerPoint presentation should be concise (20-30 minutes) and include the following:
General Company Information
Mission and vision
Short- and long-term plans
Years in business
Legal structure (public, privately held, corporation, LLC, partnership, sole proprietor)
Facility/service area location(s)
Executive bios/experience
Business and professional certifications
Products and Services Offered
Highlight products/services that pertain to our requirements/company needs
Indicate the solutions your company can offer us
Experience
Include examples of projects completed for similar companies, noting project, dollar amount, client and reference name
Highlight your experience with utility companies
Technical Capabilities
Design - Highlight capabilities, including engineering, software, seismic design capabilities and experience
Quality assurance - Discuss your formal quality assurance/control program and procedures
State pertinent certificates, such as ISO certified
Production - Describe your production capabilities and indicate/explain if you have written manufacturing/inspection/test procedures and how they are communicated to employees
Supplier Responsibility Program Compliance
Diversity – Communicate any diverse business certifications; if you have a Tier II supplier diversity spend program/policy/goals, including the type of services you subcontract; and tell us if you would work as a subcontractor if the opportunity arises
Ethics – Tell us if you have an ethics/compliance policy statement and how the program is documented and communicated to all employees, who oversees it, and how you ensure the process is followed
Environmental Program - Describe the policies/programs you employ to comply with applicable laws and regulations, what the processes are to address the nature of the work, and if you restrict your work to a geographic area
Safety - Describe your safety program, including Illness & Injury Prevention Program (IIPP), code of safe work practices, and site specific safety plan
Ask/listen for opportunities
Address how your company can successfully meet these opportunities