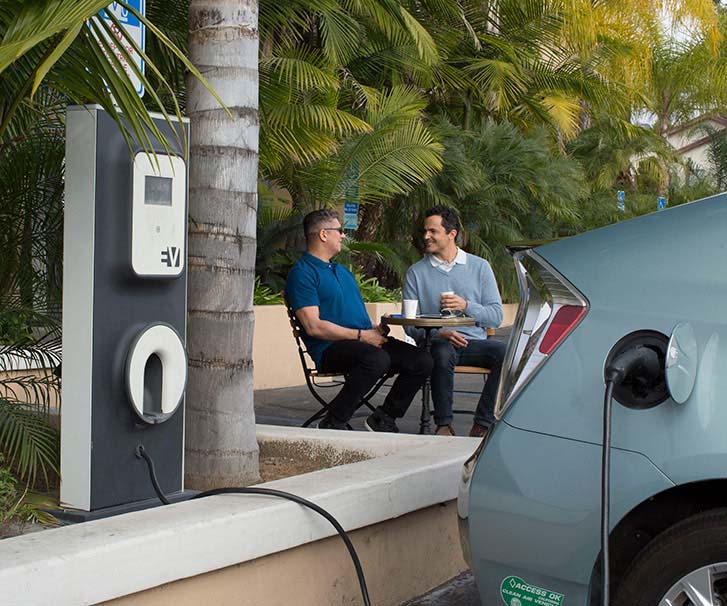 Get a Charge from Your Parking Experience>
Offering electric vehicle (EV) charging stations can drive up customer satisfaction. We're here to help you discover the ins and outs of installing and operating charging equipment at your business.
After you've reviewed the information on this site, please contact your Account Manager or call 1-800-990-7788 if you want to discuss Transportation Electrification (TE) for your business.
Benefits to Spark Your Retail or Parking Business
In today's competitive parking environment, drivers expect a modern, convenient experience. Investing in EV charging can make your business more appealing to new and repeat customers and visitors. Installing charging stations may give you an edge over your competition, while improving customer satisfaction. And because EVs cut carbon emissions by 70%, you'll strengthen your reputation as a green leader by helping to reduce smog and greenhouse gasses. As another benefit to your bottom line, your organization may qualify to save on charging equipment through federal and state incentives.
An important step in understanding how charging works is to get familiar with the different types of EVs available. Take a moment to learn more, so you can provide a parking experience that can keep customers satisfied.
A Plug-In Hybrid Electric Vehicle (PHEV) has both an electric motor connected to a battery and an internal combustion engine. To charge its battery, visitors can plug it into a standard electrical outlet or a charging station. PHEVs use the energy stored in the battery to run, but they can travel many more miles on gas, with a much higher fuel efficiency than most conventional vehicles.
A Battery Electric Vehicle (BEV) is 100% powered by electricity. With no reliance on gasoline, emit no pollutants and drivers never need to pull into a gas station. BEVs typically have a driving range between 80 and 250 miles, which makes them ideal for short trips and most daily commutes.
Transportation Electrification Advisory Services Overview>
We offer several services to help you adopt and make the most of transportation electrification. TE Advisory Services is your comprehensive resource for the information and support your business needs throughout its transition to EVs—and down the road.
Class name
sce-swap-image-content