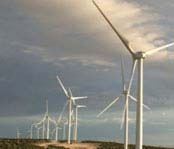 Renewable Power for Southern California
Wind farms and solar plants typically are located in remote areas, far from where most of us live and work. To deliver wind and solar power to Southern California homes and businesses, our infrastructure must be expanded and upgraded. Our Tehachapi Renewable Transmission Project is the nation's largest wind energy delivery infrastructure, and it's one of many strategic investments we're making to provide more renewable power.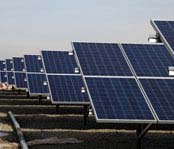 Solar Power on Warehouse Rooftops
Our innovative Rooftop Solar Program – the nation's largest advanced solar photovoltaic project – is generating cleaner renewable power in an environmentally sustainable fashion. By positioning solar stations on the roofs of existing warehouses in sunny, inland areas, we are putting otherwise-unused rooftops to good use. The program is designed to generate as much as 220 megawatts DC of solar power with rooftop and ground mounted photovoltaic panels, both by us and by independent power producers.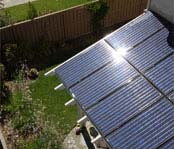 Helping Southern Californians Go Solar
Solar Facts at a Glance:
In July 1998, SCE connected its first residential solar customer to the electric grid.
Every year since 2007, SCE has ranked in the top 10 utilities in delivering solar to its customers.
SCE connects an average of 3,600 solar customers to the electric grid monthly, equal to a solar customer coming online every 12 minutes.
SCE has connected more than 252,000 residential and commercial customers to the grid.
Last year, SCE connected 547 megawatts of solar energy to the grid, equivalent to removing 231,839 cars from the road for a year or 16,205 garbage trucks worth of waste being recycled instead of going into a landfill.
Information on SCE's solar programs can be found at SCE.com/gosolar.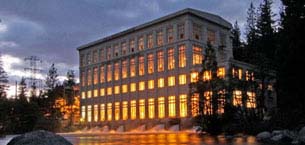 100+ Years of Clean Hydropower
We have been generating hydro power in the Sierra Nevada Mountains for 100+ years. Big Creek was the first large-scale hydro system in the United States. Today, it generates enough emission-free electricity to power 640,000 homes, and accounts for 20% of the generation capacity we own. We don't count it toward our renewable portfolio standard goals, though, because California policy does not include power from large hydro plants.
World's First Low-Emission Hybrid Battery Storage, Gas Turbine Peaker System
In partnership with GE, the new technology helps reduce greenhouse gases and operating costs at two existing peaker plants in Norwalk and Rancho Cucamonga. Like a hybrid vehicle, an advanced lithium-ion battery provides energy to the grid immediately, allowing time for the gas turbine to ramp up and take over, if needed. The battery is later recharged. The system is called the Hybrid Enhanced Gas Turbine system, or Hybrid EGT, and results from a partnership between SCE, General Electric and Wellhead Power Solutions.
Solar Power For You
We have generated solar power since the 1980s. With our rooftop solar photovoltaic project, now we're producing solar power on top of warehouses.