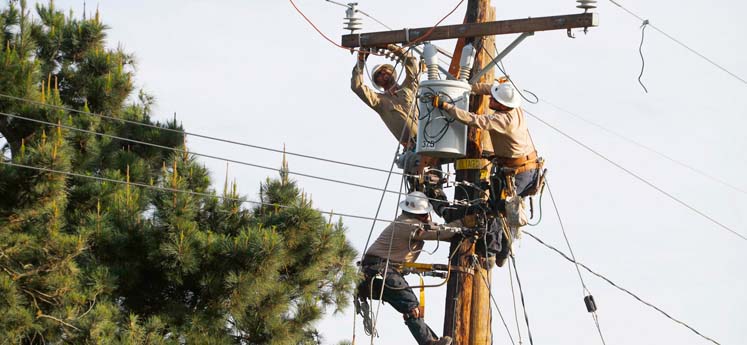 When major disasters strike, SCE has a dedicated Customer Support Team to help impacted customers. If you have been impacted by a disaster, SCE is here to help. Please call us at 1-800-250-7339 from 6 a.m. to 9 p.m. Monday through Friday, or Saturdays from 8 a.m. to 5 p.m.
Customers impacted by the major disasters can receive for additional assistance. Learn More
SCE is continuing to support customers during the covid pandemic. Learn More.
Support for Customers Affected by a Major Disaster
At SCE, we will work with customers affected by major disasters to help ease them through recovery by providing payment arrangements as necessary, assisting with establishing service at temporary locations, ensuring our income-eligible customers receive necessary support information, and expediting rebuilding with a dedicated Service Planning team. Here are some additional items for consideration:
If you're experiencing temporary financial setbacks as a result of the disaster, you may be able to defer a payment until a later date. You can set up your payment arrangements online through My Account or by calling us at 1-800-250-7339.
Submit a Claim
If you need to file a claim, we're here to provide guidance and support every step of the way. Call us at 1-800-251-3311 or submit your claim online.
Support for Income-qualified Customers
During a major disaster, in an effort to assist California Alternate Rates for Energy (CARE) customers who may be impacted, we freeze all income verifications. Also, any pending verifications for customers in impacted areas will be canceled. For information on how to qualify for CARE, please call1-800-251-3311.
Additionally, the Energy Assistance Fund(EAF) is committed to providing critical support in helping customers pay their electric bills when they need it most. Please click on this link to learn more about it.
Our dedicated support staff is here to help through the difficult impacts our customers experience as a result of disasters. We look forward to assisting those affected.
Support for Net Energy Metering (NEM) Customers
If you are a Residential NEM customer that has been impacted by a major disaster, for which a state of emergency has been declared, and you decide to rebuild your NEM system, it may be possible for you to remain on your original NEM tariff and have application fees waived if you meet these requirements:
You notify us of your intent to rebuild within 2 years from the date the major disaster occurred; AND
You complete your NEM system rebuild and submit a new NEM application within 4 years from the date the major disaster occurred.
To notify us of your intent to rebuild your NEM system, please complete this Disaster Support Form.
If you have additional questions, please contact us at: nem@sce.com.
redcross.org - American Red Cross disaster assistance website
caloes.ca.gov - California Governor's Office of Emergency Services website
ready.gov - Disaster preparedness information from the U.S. Department of Homeland Security