Our workforce of 12,400+ employees clearly reflects the rich diversity of Southern California, and everyone's first few days on the job include diversity training. Here's a glimpse into the makeup of our employees in 2018:
58% of our employees were minorities
24% of our elected officers were minorities and 20% were women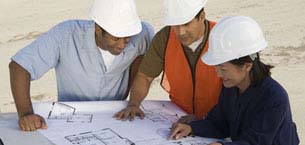 Equal Opportunity & Affirmative Action>
Our Equal Opportunity policy is that employment at SCE be based on individual merit, qualifications, and competence. We provide equal-employment opportunity in all aspects of the employment relationship, including recruitment, hiring, compensation and benefits, development, promotion, transfer, discipline, layoff/recall, and termination of employment for all employees – without discrimination on the basis of race, color, religion, national origin, ancestry, age, gender, gender identity, gender expression, sexual orientation, marital status, citizenship, pregnancy, individuals with disabilities (physical or mental), medical condition, protected veteran, family leave status, or genetic information.
Our Workforce, by Ethnic Group (as of OCT. 31, 2018)
| Job Category | White | Black or African American | Hispanic or Latino | Asian | Native Hawaiian or Pacific Islander | American Indian or Alaskan Native | Two or More Races |
| --- | --- | --- | --- | --- | --- | --- | --- |
| Exec/Senior Officials & Managers | 76% | 4% | 8% | 8% | 0% | 0% | 4% |
| First/Mid Officials & Managers | 52.7% | 6.4% | 25.3% | 12.9% | 0.4% | 0.5% | 1.8% |
| Professionals | 37.9% | 6.3% | 29.3% | 22.7% | 0.7% | 0.4% | 2.8% |
| Technicians | 44.6% | 6.8% | 35.9% | 8.9% | 0.7% | 0.4% | 2.8% |
| Admin/Support Workers | 25.6% | 12.2% | 52% | 6.2% | 0.2% | 0.9% | 2.8% |
| Craft Workers | 52% | 4.6% | 37.8% | 3.5% | 0.2% | 0.9% | 1% |
| Operatives | 42% | 3.9% | 46.5% | 1.5% | 0.4% | 2% | 3.6% |
| Laborers & Helpers | 43% | 14.1% | 37.3% | 4.9% | 0% | 0% | 0.7% |
| Service Workers | 40.7% | 21.1% | 30.1% | 4.1% | 0.8% | 0% | 3.3% |
Our Workforce, by Gender (as of OCT. 31, 2018)
| Job Category | Female | Male |
| --- | --- | --- |
| Exec/Senior Officials & Managers | 20% | 80% |
| First/Mid Officials & Managers | 25.1% | 74.9% |
| Professionals | 42.6% | 57.4% |
| Technicians | 19.4% | 80.6% |
| Admin/Support Workers | 63.1% | 36.9% |
| Craft Workers | 0.6% | 99.4% |
| Operatives | 0.5% | 99.5% |
| Laborers & Helpers | 9.2% | 90.8% |
| Service Workers | 10.6% | 89.4% |
Diversity on Our Board of Directors (as of OCT. 31, 2018)
Year
White
Black or African American
Hispanic or Latino
Asian*
American Indian or Alaskan Native
Native Hawaiian or Other Pacific Is
Two or More Races
Female
2015
60%
10%
10%
20%
0%
-
0%
30%
2016
55%
9%
18%
18%
0%
-
0%
27%
2017
64%
9%
18%
9%
0%
-
0%
27%
2018
64%
9%
18%
9%
0%
-
0%
27%
*Includes Native Hawaiian or Pacific Islander
Diversity Among Our Elected Officers (as of OCT. 31, 2018)
Year
White
Black or African American
Hispanic or Latino
Asian*
American Indian or Alaskan Native
Native Hawaiian or Other Pacific Is
Two or More Races
Female
2015
76%
8%
12%
4%
0%
-
0%
32%
2016
83%
4%
4%
4%
0%
-
4%
21%
2017
68%
8%
16%
5%
0%
-
3%
21%
2018
76%
4%
8%
8%
0%
-
4%
20%
*Includes Native Hawaiian or Pacific Islander
Diversity on Our Executive Payroll (as of OCT. 31, 2018)
Year
White
Black or African American
Hispanic or Latino
Asian*
American Indian or Alaskan Native
Native Hawaiian or Other Pacific Is
Two or More Races
Female
2015
71%
6%
11%
12%
0%
-
1%
32%
2016
70%
7%
10%
12%
0%
-
2%
29%
2017
67%
7%
11%
13%
0%
-
1%
29%
2018
67%
7%
9%
14%
0%
-
3%
34%
*Includes Native Hawaiian or Pacific Islander
Diversity Among Our Top 500 Employees (as of OCT. 31, 2018)
Year
White
Black or African American
Hispanic or Latino
Asian*
American Indian or Alaskan Native
Native Hawaiian or Other Pacific Is
Two or More Races
Female
2015
66%
4%
12%
15%
0%
-
1%
31%
2016
67%
5%
12%
17%
0%
-
1%
29%
2017
66%
4%
12%
16%
0%
-
1%
29%
2018
64%
5%
13%
16%
1%
-
2%
30%
*Includes Native Hawaiian or Pacific Islander
Diversity Among Our Top 1,000 Employees (as of OCT. 31, 2018)
Year
White
Black or African American
Hispanic or Latino
Asian*
American Indian or Alaskan Native
Native Hawaiian or Other Pacific Is
Two or More Races
Female
2015
62%
4%
14%
17%
0%
-
1%
27%
2016
62%
5%
14%
17%
1%
-
1%
26%
2017
61%
5%
14%
18%
0%
-
2%
27%
2018
60%
5%
15%
18%
1%
-
2%
27%
*Includes Native Hawaiian or Pacific Islander