The New Abnormal: Increased Wildfire Threat
The 2017-2018 wildfire season demonstrated the increasing threat of wildfires to California.
Changes to California's climate conditions mean that the traditional notion of a fire "season" no longer applies because fires now occur throughout the year and are more destructive. Ten of the 20 most destructive wildfires in the state have happened since 2015.
Wildfires threaten not only our homes, our lives and our economy, but also our fight against climate change.
Public safety is SCE's No. 1 priority. About 35 percent of SCE's service territory is categorized as a high fire risk area. Our wildfire mitigation strategy is built on the following fundamentals:
Investing in a strong and resilient electric grid
Bolstering situational awareness capabilities
Enhancing operational practices
Enhanced Overhead Inspections and Remediation
Southern California Edison's ongoing commitment to safety and supporting California's fight against wildfires remains our top priority. In early February, the company filed its 2019 Wildfire Mitigation Plan with the California Public Utilities Commission. The plan further reduces the risk of fire ignitions caused by utility infrastructure.
Learn more about the 2019 Wildfire Mitigation Plan and maps identifying "High Fire Risk Areas" in California.
Information on SCE's inspection program:
Inspections of our infrastructure, particularly in "High Fire Risk Areas," have been an ongoing part of regular operations for SCE for many years and are just one part of SCE's broader wildfire prevention and mitigation program.
Some of SCE's infrastructure sits on easements on our customers' properties. In these instances, SCE asks for support from its customers to ensure safe access to equipment that needs to be inspected.
Throughout this year, you may see crews doing both inspections and infrastructure improvement work.
Aerial assessments are also being made to compliment the thorough inspections being conducted on the ground by field crews.
If the work takes place in the immediate vicinity to your residence or place of business, you will be notified in advance of a planned maintenance outage so crews can make repairs.
Additionally, SCE is proactively identifying and mitigating trees outside required clearances that may pose a potential risk to the company's power lines.
SCE employee and contractors will have identification badges. SCE vehicles will feature the company's logos and contractor vehicles will have signage indicating they are SCE "Approved Contractor".
As a part of this work, SCE will set up three temporary maintenance yards throughout the company's service area (Malibu EOI Yard, Moorpark Sub EOI Yard and Saugus Sub EOI Yard) to facilitate our work. The sites will serve as a reporting location for SCE personnel and contractors, vehicle parking and material storage.
Investing in a Stronger and More Resilient Electric Grid
Investing in a strong and resilient grid means we are looking at both established as well as new technologies and equipment to help mitigate wildfire risk.
Examples include the installation of covered conductors (insulated wires) and composite poles.
Stronger and More Resilient System
The covered conductor is an insulated power line which minimizes faults or short circuits that can create sparks. It reduces the likelihood of the most common causes of faults which include contact with animals, vegetation and other debris (e.g. metallic balloons).
Covered conductor is not only very effective at mitigating wildfire risk, but it also increases the overall reliability of our system.
Bolstering Situational Awareness
SCE has enhanced its existing situational awareness capabilities to better forecast potential wildfire conditions and develop appropriate operational plans, including Public Safety Power Shutoffs (PSPS), to mitigate wildfire risk. These new capabilities will better inform operational decisions, help SCE's emergency management staff determine how best to reduce potential wildfire risks, and enable SCE to be more effective in responding to fire events when they occur.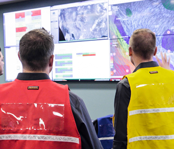 Situational Awareness Center
The Situational Awareness Center is staffed with meteorologists and Geographic Information System (GIS) professionals 24/7 during events and incidents. It is co-located within SCE's Emergency Operations Center and provides intelligence for decisions focused on mitigating wildfire and other risks.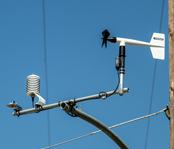 Weather Stations
Weather Stations enhance the granularity of existing weather models and provide real-time information (wind, temperature and humidity) to assist with making key operational decisions during potential fire conditions, including PSPS.
High Resolution Weather models
High Resolution Weather models provide more localized visibility into weather forecasts in SCE high fire risk areas to identify severe fire conditions with additional precision.
Allow meteorologists to pinpoint weather conditions at a more granular level to better define and identify at-risk circuits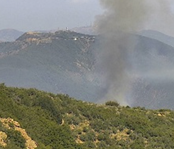 Fire Monitoring Cameras
Fire Monitoring Cameras provide enhanced real-time situational awareness for first responders and SCE incident command teams. Please visit http://www.alertwildfire.org to view feeds from these cameras.
Enhanced Operational Practices
Extreme Weather Conditions
When extreme weather conditions are forecasted, the company restricts certain types of work and does not automatically re-energize distribution power lines in high fire risk areas after a circuit interruption.
Most electric circuit interruptions, or "faults," are momentary, caused, for example, by a bird or metallic balloon making contact with power lines. Under normal conditions, the grid automatically tests the circuit and, if the fault condition no longer exists, the circuit is quickly re-energized. During extreme weather conditions, affected circuits are not automatically re-energized and SCE crews physically inspect the lines before they are re-energized.
Vegetation Management
Trees, shrubs and other vegetation can cause safety hazards and power outages if they grow near or into power lines. We have increased the frequency of vegetation patrols in the most severe high fire risk areas to identify potential hazards.
900,000 trees inspected annually.
400,000 trees in high fire risk area pruned per year.
24,500 dead, dying or diseased trees removed in 2018.
SCE is proactively identifying and mitigating trees outside required clearances that may pose a potential risk to the company's power lines.
SCE is expanding the application of LiDAR technology, an advanced laser surveying method, to enhance vegetation management in remote areas of our service territory. This technology allows us to more precisely and efficiently assess vegetation near power lines in difficult to access areas, further reducing fire risk. We are also expanding the use of LiDAR to additional high fire risk areas in our territory, which should enable us to more closely monitor hundreds of square miles of rugged high fire risk areas.
Public Safety Power Shutoffs
Public Safety Power Shutoffs (PSPS) are an operational practice where SCE may preemptively turn off power to circuits or portions of circuits in high fire risk areas that are experiencing extreme fire weather conditions to prevent wildfire ignitions and ensure public safety.
Extreme fire weather conditions may cause power outages that are not related to a PSPS. Should an outage occur, restoration times may be increased since an inspection of our lines must be performed before power is restored.
SCE plans to notify the emergency management community, public safety agencies, government officials and customers in advance of a potential PSPS event and will attempt to notify again when the power is shut off. Additional notifications will occur when power is restored.