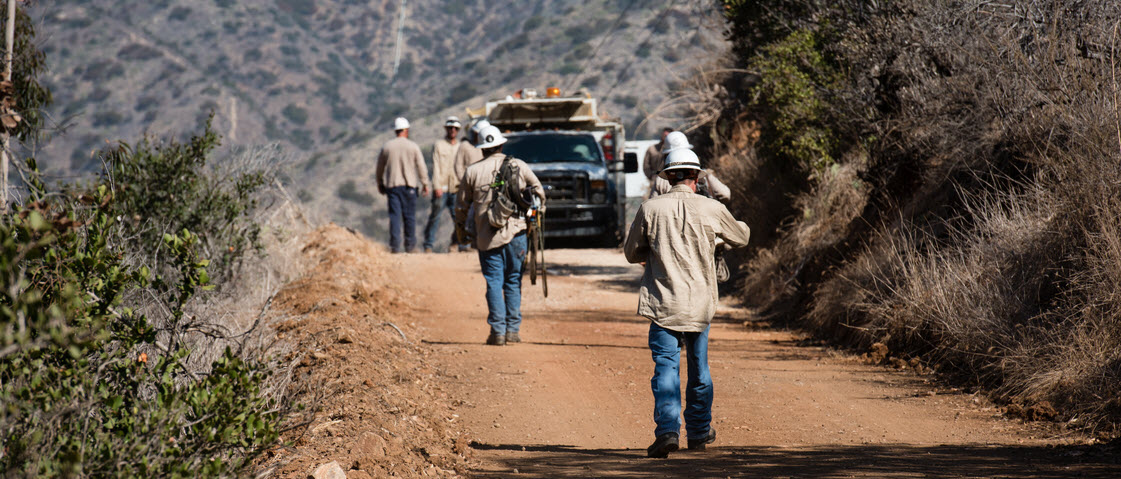 TROW CEMA Storm Response Road Repair
---
Class name
heading-new-style
Following significant storms and precipitation this year, Southern California Edison has been conducting damage assessments on the roads we use to access our facilities. Many of these routes were severely impacted and in some cases are now dangerous or impassable. Immediate repair of accessways to our facilities is essential to our ability to conduct inspections and maintenance on our critical infrastructure and maintain reliable power in the communities we serve. The immediate need for inspections and maintenance of SCE facilities is presented in the 2023-2025 Wildfire Mitigation Plan (WMP) that was filed with the Office of Energy Infrastructure Safety.
Status of Ongoing Projects
Following significant storms and precipitation in early 2023, Southern California Edison has been conducting damage assessments on roads we use to access our facilities. Over 100 locations have been identified for repair to restore access for emergency repairs and essential maintenance.
Click here to view a list of ongoing projects.
Over 100 locations have been identified as in need of repair. The scope of work may include activities such as:
Vegetation Management
Structure Brushing
Maintenance Blading and Grading
Clearing Road Obstructions
Waterbar Maintenance
Berm Maintenance
Low Flow Water Crossing Maintenance
Culvert Maintenance
McCarthy Drain Maintenance
Slide Removal and Slump Repair
Rock Crushing
Concrete Slurry/Soil Cement
Stacked Rock Wall Maintenance and Repair
Sinkhole/Slope Repair
Temporary Bridges
Laydown Yard/Staging Area
SCE is communicating with governing agencies to obtain necessary approvals.
What does the scope entail?
Repairs will involve the clearing of overgrown brush along the roadway, compaction of the road surface, filling in any ruts, and installation of drainage features.
Why is this work necessary?
SCE's access roads are not only used by SCE, but also by emergency first responders, government agencies, and in some areas the public. SCE would like to ensure that anyone using their roads has safe access to the location they need to get to.
What impact will there be on the environment?
SCE's road maintenance group has continued to partner with its Environmental, Government Land, and Public Affairs partners to ensure as minimal impact as possible and will be reporting out final findings when work is completed to all necessary agencies. 
When will this work take place?
SCE will be making road repairs throughout our territory starting in May 2023 and continuing over the next 2 years.
Status
As of May 10, 2023, 50% of damage assessments have been completed and approximately 2% of the resulting repairs have been completed.
Project Timeline
Work began on March 6, 2023, and is expected to continue through 2025.
Contact Us:
1-626-302-7904