When your business is planning a large expansion or new construction, you may need electrical service upgrade or new electrical service installation. We can help!
Before moving forward, please answer the questions below to verify if this process is right for you.
Is your projected electrical demand greater than 6 MW?
Do you plan to connect at the 66 kilo Volt level or above?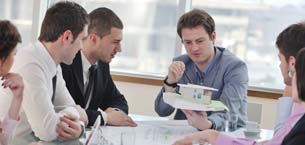 If you answered "No" to either of the questions above, please contact:
• Customer Service: 1-800-655-4555
• Or visit us online at SCE Move Center
If you answered "Yes" to both of the questions above, then we can work with your engineers to develop what's called a "Method-of-Service Study" . Please proceed to complete the Study Application Package.
Steps to Completing the Study Application Package
Frequently Asked Questions