Get up to $230 in credits on your energy bill when you sign up for the Summer Discount Plan. There's no cost to enroll or participate in the program.
Flexible program options let you choose your level of comfort and savings. Receive up to $180 in summer season credits, plus a one-time $50 bonus applied to your bill at the end of the year!
Choose Your Comfort Level
We understand more people are staying home during these challenging times. For more control over your A/C during an energy event, we offer program options with override control.** These options allow you to opt out of an energy event if you are at home and still want to use your A/C. If you are currently enrolled, you can switch your eligible A/C unit to another plan option by updating your preferences.
When you sign up, SCE will install a remote-controlled device on or near your air conditioner at no cost to you. This will allow us to turn off or cycle your A/C unit during energy events throughout the year based on your program preferences. You'll earn bill credits from June 1 to October 1 for participating.
Choose the Plan Option for You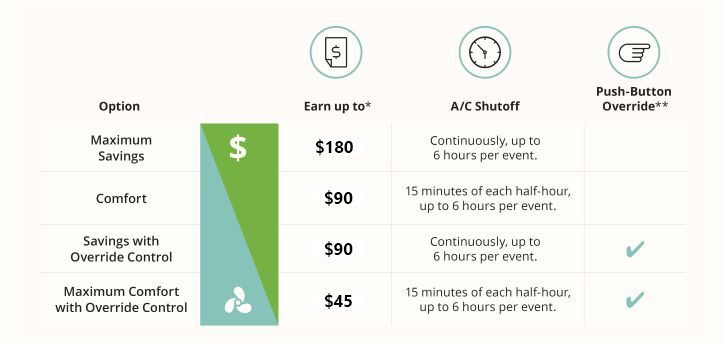 *Estimated Bill Credit based on a typical 4.5-ton air conditioning unit. Actual bill credit could increase with larger units and decrease for smaller ones and will vary based on your level of participation and your equipment. Additional terms and conditions apply.
**Push-button override options not available on roof-mounted A/C units. Override may be used up to five times a year.
What is an energy event and when does it happen?
We may call an energy event in response to emergencies, overworked electrical grids, high wholesale energy prices, or as part of testing. An energy event can happen at any time during the year and may last up to 6 hours per day (with the possible exception of a system emergency).
You can find information about active or historical energy events at any time.
Frequently Asked Questions
Have more questions about Summer Discount Plan? Check out our FAQ page.
This information is meant as an aid to understanding SCE's Summer Discount Plan program. It does not replace SCE's CPUC-approved tariffs. Any inconsistencies between this material and SCE's tariffs are unintended, and the tariffs prevail. Please refer to SCE's tariff books for a complete list of terms and conditions of service. The credit amount and program options are subject to change by the California Public Utilities Commission (CPUC). This program is funded by California utility customers and administered by Southern California Edison under the auspices of the California Public Utilities Commission. © 2020 Southern California Edison. All rights reserved.
PLEASE NOTE: No authorized SCE representative will ever ask you to pay for advice on how to save money or energy through our programs.