Important Information About Critical Peak Pricing

Effective June 1, 2022, events can be called year-round on any day of the week, including weekends and holidays.
Get to Know Critical Peak Pricing (CPP)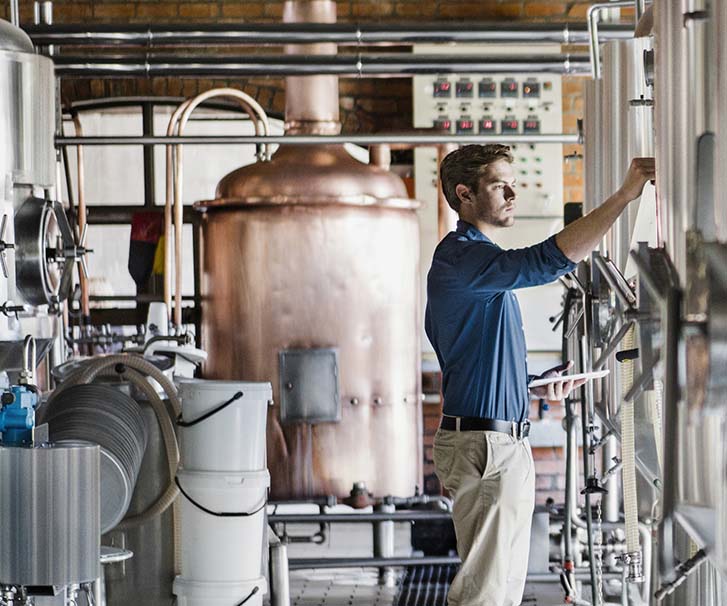 CPP is the default option for small, medium, and large business customers (Rate Schedules TOU-GS-1, TOU-GS-2, TOU-GS-3, and TOU-8) as well as large Agricultural and Pumping (Rate Schedule TOU-PA-3) customers. CPP provides four months of summer season bill credits in exchange for paying higher electricity prices during 12 to 15 annual CPP events. When called, CPP events are from 4 p.m. to 9 p.m., usually occurring on the hottest summer days. If your business reduces its electricity use when we notify you of CPP events, you can minimize these higher prices. Plus, your business will earn credits on your electricity bills during the summer season — when your bills are typically the highest.
Save More with the Technology Incentive Program 
If you are enrolled in Critical Peak Pricing, you could get $75 back when you register your qualifying smart thermostat in the Technology Incentive Program.
During a CPP event, we will notify your smart thermostat provider to temporarily adjust the temperature setting on your thermostat to limit A/C usage at your business. You will always have the ability to adjust the temperature during these events, but this could affect your CPP event charges.

Already own a smart thermostat?
Enroll your smart thermostat in the technology incentive program. Click on your thermostat manufacturer below and you will be redirected to the home page to begin your enrollment.
Need to purchase a smart thermostat?
Visit the SCE Marketplace for valuable information about smart products, programs, and tools.
Don't miss your notifications.
Download the free SCE Demand Response (DR) Alerts mobile application. Set up the app to receive notifications when a CPP event is scheduled, when it starts, when it ends or all three.
*Please note that setting alerts does not enroll you in a DR program. Customers enrolled in DR programs are still responsible for event participation even if the notification is not received.
Log in to update your contact preferences. Get email, phone, or text notifications to the contact of your choice for each of your service accounts.
Who is affected by annual defaults?
Businesses with service accounts on a TOU rate plan for at least 24 months and on any of the following eligible TOU rate plans will be annually defaulted to CPP:
Small, medium, and large businesses (Rate schedules TOU-GS-1, TOU-GS-2, TOU-GS-3, and TOU-8)
Agricultural and Pumping customers with service accounts over 200 kW (Rate Schedule TOU-PA-3)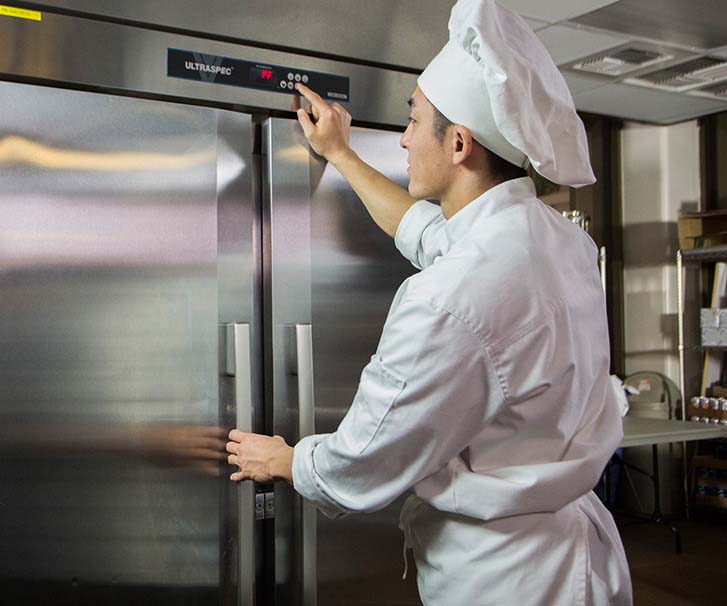 You can choose a rate without CPP at any time.
You can compare all your rate options below, but before you do, check out how CPP works. The program could actually lower your energy bill.
You're safe with Bill Protection.
1. If you've signed up for notifications, you'll be notified a day before a CPP event occurs. You can receive your notification by your choice of phone call, text, or email. CPP events can occur year-round any day of the week. You can receive event scheduled, event start, and event stop notifications by downloading and configuring the SCE Demand Response (DR) Alerts mobile application.
2. During the CPP event, you should lower your usage between 4 p.m. and 9 p.m. because you will be charged at a significantly higher rate than normal for all usage during these hours.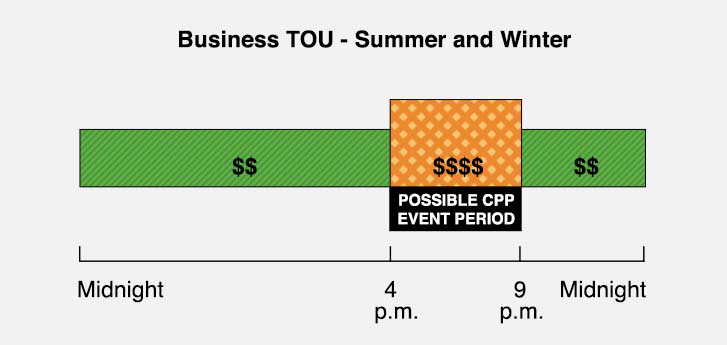 Compare Rate Options
See how the new TOU peak periods will affect you. Our Rate Plan Comparison Tool will help you compare rates based on your actual usage.
Business Energy Advisor
Take a 5-minute survey about your facility and get customized recommendations for cost-effective, energy-efficient upgrades and strategies.
Get the Facts About CPP
Our helpful fact sheet summarizes the upcoming changes to CPP. Find answers to frequently asked questions and energy-efficiency tips.
Tips to Reduce Energy Use During a CPP Event
Your business will not have to shut down operations to participate in CPP events. Instead, these tips can help reduce your energy usage during a CPP event.
Turn off all nonessential indoor/outdoor lighting, signage, window displays, fountains, and office equipment not in use.
Raise cooling thermostat settings to 78°F with a programmable smart thermostat.
Install sensory controllers on vending machines to shut them down for short periods of time.
Reduce production during CPP events or reschedule during Off-Peak or Super Off-Peak hours (when CPP events will not occur).
Unplug battery chargers and use only precharged equipment during On-Peak hours; charge battery-operated equipment prior to CPP events.
"It takes a lot of electricity to power 55 plants and 10 mine sites used to produce ready-mix concrete and construction aggregates for projects in California and parts of Nevada. That's why Robertson's Ready Mix works closely with SCE to determine ideal options in our service territory to reduce electricity use, lower operating costs, and minimize impacts on the environment."

-- Rob Lesch, Robertson's Ready Mix Electrical Manager