Sometimes unexpected events can cause the power to go out. Other times, we may plan scheduled outages for routine maintenance or necessary repairs. Learning about outages can help you stay safe and be prepared when they happen.
Whether it's storms, fires, or earthquakes, there are many reasons why a power outage might occur. Our goal is to restore power as quickly and as safely as possible. This brief video offers a look into the steps we take to repair outages and restore power to communities and homes.
Outages can happen for many different reasons, including:
Traffic accidents: Power lines can be damaged when cars crash into utility poles
High temperatures: Heavy use of air conditioning can overload power lines and transformers
Severe weather: Heavy rains or high winds can damage power lines
Natural disasters: Earthquakes and fires can damage power equipment and networks
During an outage, our crews work hard to restore power as quickly and safely as possible. Depending on the amount of damage, the time it takes to restore power may vary. We encourage you to make safety your top priority until our crews can locate and repair damage. Remember: Never go near a downed power line.
With some preparation, you can keep your family safe and comfortable during an outage.
Learn to Prepare for a Power Outage >
Remember to also visit our Outage Map to get updates on the status of power outages, including the estimated restoration time.
Our primary job is to keep your electricity on 24 hours a day, 7 days a week. To better serve you, we are constantly upgrading electrical equipment and modernizing the grid. To keep our crews safe, we may need to shut your power off temporarily while we make these upgrades.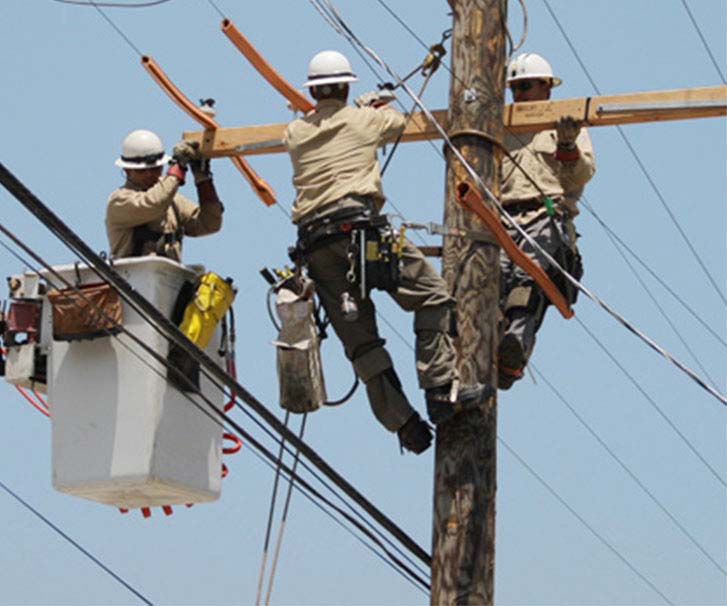 Upgrading and modernizing the grid is part of our long-term plan to keep the grid reliable now and for the future. We understand that turning your power off is an inconvenience. We appreciate your patience and understanding.
What to Expect Before a Maintenance Outage
We'll notify you at least three days before a maintenance outage. We'll provide you with a Scheduled Outage Number so you can get updated information if you wish.
The timing can change due to safety reasons. This means that a maintenance outage can be rescheduled or cancelled or it could end earlier than planned.
You can get the latest updates by entering your Scheduled Outage Number in our Maintenance Outage Status Tool.
What to Expect The Day of a Maintenance Outage
You may see our crews in your neighborhood. This could mean road closures or increased traffic in the area. You may want to add some extra time to your commute.
Keep in mind that we may need to turn the power off and on more than once during the outage.
As soon as we have information from our crews about when the power will be restored, our Outage Search Tool will reflect it.
During a power outage our top priority is your safety. Most importantly, stay away from downed power lines. If your lights flicker or go out, there are steps you can take to determine whether a power outage is happening.