Choose the Best Rate Plan for Your Business
Rate Analyzer is a new online tool that analyzes your business' energy usage history and compare your current rate plan against a subset of other available rate plans*. You'll see your current rate next to what your rate would be on other select eligible rate plans.
Find the rate that works best for you, and submit your request to switch rate plans – all online. If you're eligible to use the Rate Analyzer, you can try it by logging in to My Account.
My Account enrollment is required in order to access the Rate Analyzer. Don't have My Account? Sign up now.
Accessing the Rate Analyzer is Easy!
Whether you have one account or many, we've made the Rate Analyzer easy to access for eligible customers.
Before you select a rate, you may also want to learn about mandatory Time-of-Use Rates for Businesses and discover ways you can shift energy use to off-peak or mid-peak times to help lower your usage costs and reduce strain on the grid.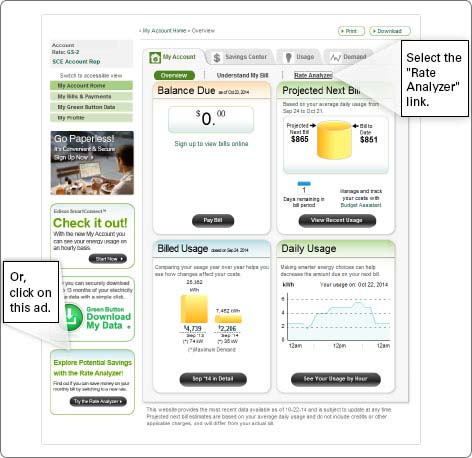 If you only have one service account:
If you only have one service account, simply select the "Rate Analyzer" link in the My Account tab (located immediately above your Projected Next Bill), or the tile ad on the left hand side of the screen on the My Account page.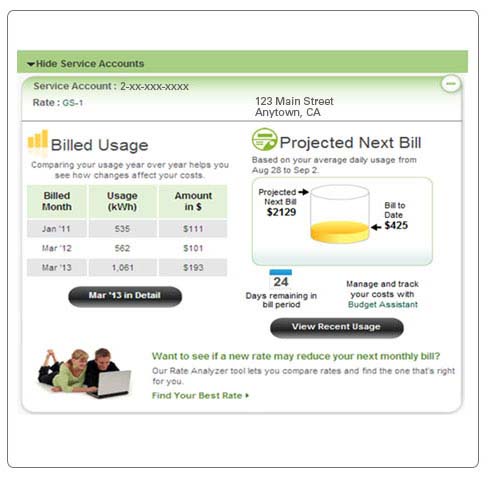 If you have two or more service accounts:
If you have more than one service account, choose the service account you'd like to compare rates for. Please note that not all service accounts are eligible for the Rate Analyzer.
Learn more about the Rate Analyzer below with answers to some common questions about the tool.
*This rate analysis is intended to compare selected rate schedules and may not include all of your rate options, such as Critical Peak Pricing, TOU-BIP, etc.
Read the terms & conditions for the Rate Analyzer.